Welcome to Landhotel Wolf in Obern, Leutasch
Our small and cosy hotel invites you to unwind and take a break from the everyday routine.
You can forget about stress in the breathtakingly beautiful scenery of Leutasch in the middle of the Seefeld Olympic Region.
Enjoy yourself with all your senses.
Whether you are looking for peace and quiet, just taking it easy,
or an active holiday to refresh your body and mind,
our hotel and the Leutasch valley are the ideal choice for you!

Our aim is to provide a successful feel-good holiday,
and we will be happy to help you in any way we can.
We welcome you warmly!
If you want to bring a pet with you please call us. Pets cost extra and are not allowed in the breakfast room.
Our Hotel is quality approved cross-country skiing hotel.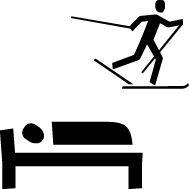 The Räty family
Dear guests, unfortunately our hotel is not accessible for all because of structural limitations.
Obern 28c
A-6105 Leutasch
Austria

Telephone: +43 5214 200 85
E-mail: Enable JavaScript to view protected content.
The prices quoted below apply to reservations made on this website. 
Datum
€/Person
05.03.2023
bis
16.12.2023
55,-
17.12.2023
bis
06.01.2024
64,-
07.01.2024
bis
20.01.2024
55,-
21.01.2024
bis
09.03.2024
64,-
These prices are per person and night in a room for two persons, breakfast included.
Surcharge for one person either 10€ or 15€ per night according to season.
The quoted prices include VAT.
Please note that a tourist tax (Kurtaxe) of 2.80€ per person and night will be charged for the tourism association (the association reserves the right for changes).
The beginning and end of the peak and off-peak seasons may vary a couple of days in different years.
The quoted prices apply when you book directly with our hotel.and you stay atleast 3 nights